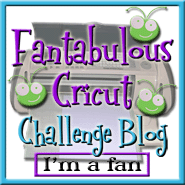 It's another challenge day at FCCB! Today is Bags & Boxes Bonanza and we had to include the color black!
I had to make some end of school year thank you gifts for a friend to give her daughter's teachers. Well, the school colors are black and gold, PERFECT for this challenge as well! You have to love killing 2 birds with one stone :) (I just realized how bad that expression is, LOL! Sorry!)
These are cut from the Tags, Bags, Boxes, and More Cart that I LOVE!
Come play along with us at FCCB!!